Latest additions to the website
Alfred John Loughton of Southwell, Nottinghamshire 1865 - 1953
Alfred John Loughton was famous for his architectural photographs, but there was more to the man than taking shoots of buildings. Discover what he was about and find out about the other talents he possessed.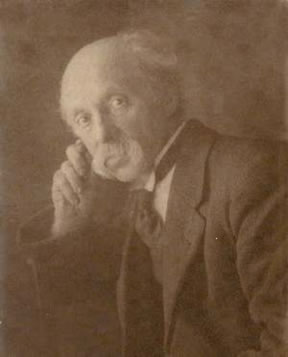 Alfred J. Loughton the son of Alfred and Mary Loughton (née Duckmanton), was born in Islington, Middlesex, England on the 29th September 1865. After his father died, Mary moved Alfred, his brother William and sister Elizabeth Wakefield back to her home town of Southwell, Nottinghamshire and in the 1881 census they were listed as living in Bar Lane.
When Mary's uncle, James Duckmanton died on 19 November 1871, Mary inherited from him the Old Southwell Theatre at 4 Market Place and this remained Alfred's home until his death in 1953. The theatre was reached via an alleyway which ran down the side of Manchester House, a shop once belonging to Arthur Chadburn who traded as a grocer, draper and wine merchant. This shop and drapers business was later bought by Alfred's brother William who had served his apprenticeship there, together with 2 Market Place, which was next to the Old Theatre. The shop was eventual bought by Nottinghamshire County Council for £3,000 and demolished in the 1950s to widen access to Queen Street.
Alfred was best known for his architectural photography skills, but he had many others; he was responsible for the invention of the "SOUTHWELL" cycle and official repairer (first grade) to the C.T.C., a skilled violin maker, a whitesmith, a bell-hanger and gas-fitter. He was also a keen collector of butterflies and moths and was often seen around the surrounding countryside with his niece Barbara Gilbert (née Loughton) collecting samples. There were several workshops connected to his home and this is where he carried out his various trades and in some shots of the opening to the alleyway, his photographs can be seen on display. Alfred used one of his bicycles to tour around the British Isles, taking photographs and lecturing as he travelled. He was also a keen exhibitor of his photographs and acquired over eighty awards from Canada to India and also in Europe.
Southwell is dominated by the Minster and this features heavily in his surviving photographs and when he died intestate on the 27th December 1953 his family donated many of his old photos and photographic plates to the Southwell Minster.
This website is dedicated to the great man and contain a selection of his old historical photographs, art and other memorabilia.