Latest additions to the website
Postcards to Australia
A series of three printed postcards all sent to the same address in Brisbane, Australia on the same day by the same person. It's also unusual to have halftone printed postcards as most surviving postcard examples of Alfred's work are real photographs.
Each postcard has the date 11.7.04 and initials, which may actually be, J.H.C. and presumably if so Mrs Holden Cowl was sending herself a record of her trip to England? If anyone interprets this differently please
let me know
. The hand-written message is on the front next to the photograph, as at the time Post Office regulations did not permit postcards sent abroad to have the message next to the address. If was however possible to put the message next to the address to postcards destined for destinations within the UK.
The postcards were sent from Nottingham on the 14 July 1904 to:
Mrs. J. Holden Cowl
c/o G. F. Scott Esq.
Union Trustee Co.
Queen St.
Brisbane
Australia

A further six unused postcards from the same series can be found on the
printed postcards
page.
Southwell Minster's Chapter House Archway & Spandrel in the Chapter House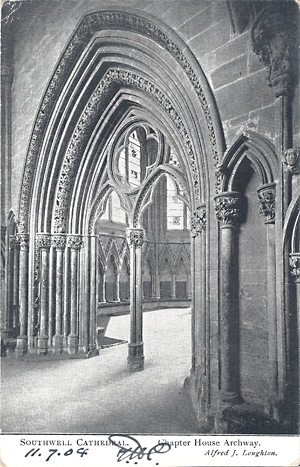 Added to site: 4 July 2011
Southwell Minster's Nave
Added to site: 4 July 2011
The address side of one of the postcards
Added to site: 2011/07/04