Latest additions to the website
A watercolour painting of King Street, Southwell
Alfred had several talents and interests.
King Street, Southwell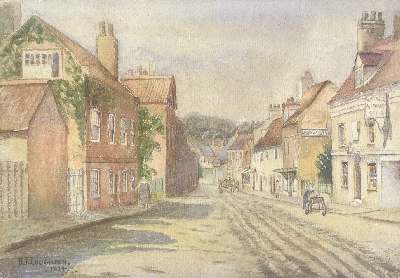 Here we find a view of King Street, Southwell looking west towards what is now the market and the Wheatsheaf public house on the right. The watercolour is dated 1924, but although the rutted road has been replaced by a modern surface, many of the buildings still stand today and can be easily recognised.

One of Alfred's photographs in the Minster's possession looks very similar to this and it is probably the photograph that Alfred worked from to produce this watercolour.