Latest additions to the website
Southwell celebrates the coronations of King George V and King George VI
Alfred didn't have to travel far from his home to take these photographs of the people of Southwell celebrating the coronations in style.
Coronation of King George V 22nd June 1911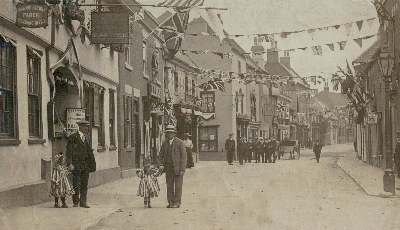 The flags adorn the buildings and the bunting stretches across the road in what was probably a sea of red, white and blue. I'd even guess that the clothes the two girls are wearing are in the patriotic colours.
Left to right: Mary Marshall with Alfred, Annie Mary "Queenie" Loughton [2 June 1909 - 21 October 1995] and her father William Loughton [2 June 1867 - 12 September 1946], (Alfred's brother). Behind William is Elizabeth Wakefield Marshall (Alfred's sister).
Coronation of King George VI 12th May 1937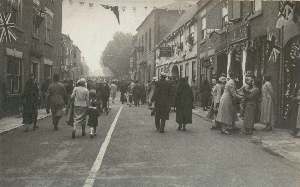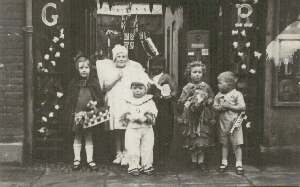 On May 12th 1937 coronation celebrations took place in Southwell, the first photograph shows adults celebrating in the street and the second one features some local children in fancy dress outside the passage way to 4 Market Place.