Latest additions to the website
Hill House, Burgage Lane, Southwell
Hill House, Burgage Lane, Southwell appears to have been built in 1800 (dated 1800 on rainwater head) for the Rev. John Thomas Becher, an English clergyman, social reformer and Vicar-General of Southwell Minster from 1818 to 1840. It remained in the Becher family for over 100 years, before becoming a boarding house for the Minster Grammar school. It has now been converted into exclusive apartments.
Hill House from the garden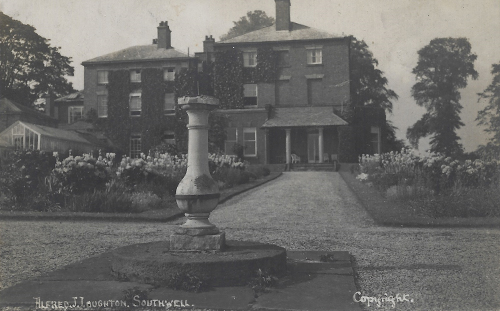 A view of Hill House and its gardens.
Added to site: 19 January 2020
The Becher family outside Hill House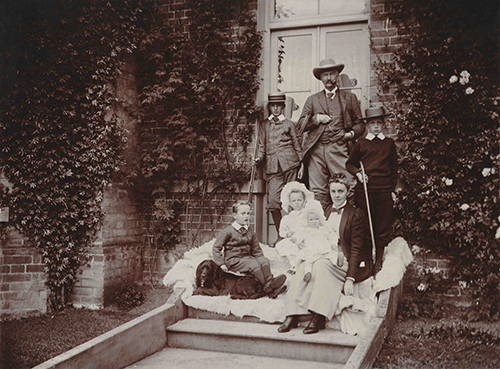 Major John Pickard Becher, born in Southwell on 20 July 1880, was the son of John Henry Becher of Hill House, Southwell and Alice Mary, and great-grandson of Reverend John Thomas Becher, who was best known for his involvement in the Poor Law reforms of the early nineteenth century.
He was the Commanding Officer of 'H' Company, 8th Battalion Sherwood Foresters, based in Southwell and was awarded the DSO for conspicuous gallantry and good service on several occasions. He died 1 January 2016 at No. 3 Red Cross Hospital (Abbeville Hospital) from septic poisoning arrising from wounds received in the attack on the Hohenzollern Redoubt 16 October 2015.
Top row: Major John Pickard Becher (20 Jul 1880-1 Jan 1916), John Henry Becher, Lancelot Edward Becher (17 Sept 1882-28 Feb 1960).
Front row: Godfrey George Becher (3 Dec 1885-4 Nov 1945), (Alice) Joyce Becher (23 Aug 1889-6 Dec 1950), Olive Mary Becher (6 Aug 1891-17 July 1965) and Alice Mary Becher née Pickard-Cambridge.
As Olive was born 6 August 1891 I suspect this dates this photograph to 1892.
Photograph kindly supplied by Andrew Wallis, grandson of Lancelot Edward Becher.
Added to site: 19 January 2020